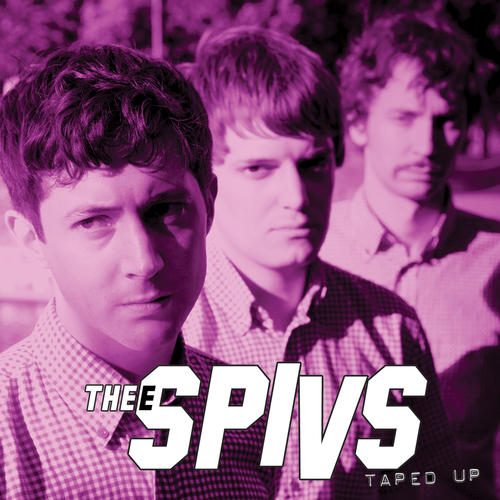 Taped Up
Available Formats
Tracks
Price
Buy
12" Vinyl Album
12 tracks

£

13.99

Out of stock

CD Album
14 tracks

£

8.99

Download Album (

MP3

)
14 tracks

£

7.99

Download Album (

WAV

)
14 tracks

£

7.99

Download Album (

WAV

)
14 tracks

£

7.99

Download Album (

MP3

)
14 tracks

£

7.99

Download Album (

MP3

)
14 tracks

£

7.99

Download Album (

WAV

)
14 tracks

£

7.99

Download Album (

WAV

)
14 tracks

£

7.99

Download Album (

MP3

)
14 tracks

£

7.99

Download individual tracks
From £0.99
Description
Thee Spivs - Taped Up
This is one of the most talked about bands you've never heard off, Thee Spivs have been playing raw and primal garage punk music all over London for the last three years in any venue, party or street that will take them.
After forming in 2007, members, Ben Edge (Guit/Vox) Dan May (bass) and Steve Coley (drums) quickly gained a reputation for their energetic and unpredictable live performances. They met up with Liam Watson from ToeRag studios in 2009 and recorded a few tracks of which two tracks came out as a limited one off 7" on 1965 records in late 2009.
After a successful European tour in spring 2010 they set off recording their debut album, 'Taped Up' which is now complete and ready to be released on Damaged Goods in November 2010.
It features 14 tracks including their first single 'It's True' plus their new single 'I Don't Want It'.
It's an edgy mix of Punk, Garage and a bit of Rock 'N' Roll, it's a storming debut !
Lookout for lots of gigs plus European dates being announced in the near future.

Tracklisting
12" Vinyl Album (DAMGOOD361LP)
Thee Spivs

- Radio

Thee Spivs

- Leave Me Alone

Thee Spivs

- I'm Alive

Thee Spivs

- What's Wrong With You

Thee Spivs

- Too Many People

Thee Spivs

- All Day Long

Thee Spivs

- Uncles Got An ASBO

Thee Spivs

- I Don't Want It

Thee Spivs

- Invisible Man

Thee Spivs

- Taped Up

Thee Spivs

- Fence Hop

Thee Spivs

- Head Hunt
CD Album (DAMGOOD361CD)
Thee Spivs

- Radio

Thee Spivs

- Leave Me Alone

Thee Spivs

- I'm Alive

Thee Spivs

- What's Wrong With You

Thee Spivs

- Too Many People

Thee Spivs

- All Day Long

Thee Spivs

- Uncles Got An ASBO

Thee Spivs

- I Don't Want It

Thee Spivs

- Invisible Man

Thee Spivs

- Taped Up

Thee Spivs

- Fence Hop

Thee Spivs

- Head Hunt

Thee Spivs

- It's True

Thee Spivs

- Men Don't Cry
Download Album (DAMGOOD361CD)
Download Album (DAMGOOD361)
Thee Spivs

- Radio

Thee Spivs

- Leave Me Alone

Thee Spivs

- I'm Alive

Thee Spivs

- What's Wrong With You

Thee Spivs

- Too Many People

Thee Spivs

- All Day Long

Thee Spivs

- Uncle's Got an ASBO

Thee Spivs

- I Don't Want It

Thee Spivs

- Invisible Man

Thee Spivs

- Taped Up

Thee Spivs

- Fence Hop

Thee Spivs

- Head Hunt

Thee Spivs

- It's True

Thee Spivs

- Men Don't Cry