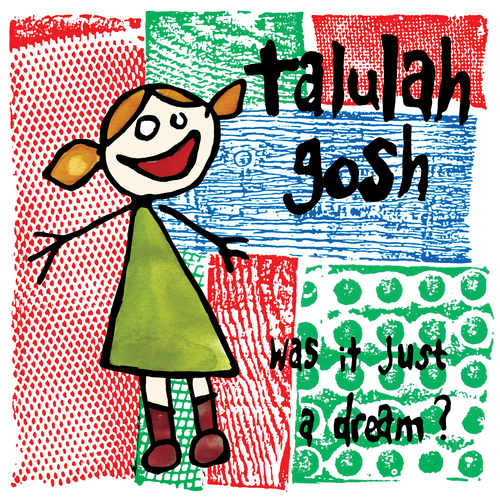 Was It Just a Dream?
Available Formats
Tracks
Price
Buy
12" Vinyl Album
29 tracks

£

22.99

CD Album
29 tracks

£

9.99

Download Album (

WAV

)
29 tracks

£

7.99

Download Album (

MP3

)
29 tracks

£

7.99

Download individual tracks
From £0.99
Description
Talulah Gosh - Was It Just a Dream?
THE COMPLETE STORY OF TALULAH GOSH! 29 TRACKS!

DIGIPAK CD WITH 24 PAGE BOOKLET

DOUBLE GATEFOLD LP *NOW ON LEMON/LIME COLOURED VINYL**

SLEEVE NOTES / NEW INTERVIEW BY EVERETT TRUE (THE LEGEND!)

Talulah Gosh were an Indiepop group from Oxford
and one of the leading bands of the twee pop/C86 scene,
their name came from the headline of an NME interview
with Clare Grogan.
They formed when Amelia Fletcher and
Elizabeth Price, both wearing Pastels badges, met at
a club in Oxford. Formed in 1986, their original line-up
comprised Amelia Fletcher (vocals, guitar), her
younger brother Mathew Fletcher (drums), Peter
Momtchiloff (lead guitar), Rob Pursey (bass) and
Elizabeth Price (vocals). Rob left early on, to be
replaced by Chris Scott. Elizabeth left in 1987 to be
replaced by Eithne Farry. They called it a day in late
1988 with Amelia, Mathew and Peter reappearing
soon after as ʻHeavenly'.
Tracklisting
12" Vinyl Album (DAMGOOD364LP)
Talulah Gosh

- Beatnik Boy

Talulah Gosh

- My Best Friend

Talulah Gosh

- Steaming Train

Talulah Gosh

- Just a Dream

Talulah Gosh

- Talulah Gosh

Talulah Gosh

- Don't Go Away

Talulah Gosh

- Escalator Over the Hill

Talulah Gosh

- My Boy Says

Talulah Gosh

- Way of the World

Talulah Gosh

- Testcard Girl

Talulah Gosh

- Bringing Up Baby

Talulah Gosh

- I Can't Get No Satisfaction (Thank God)

Talulah Gosh

- The Girl With the Strawberry Hair

Talulah Gosh

- Talulah Gosh (Radio Session Version)

Talulah Gosh

- Do You Remember

Talulah Gosh

- Looking for a Rainbow

Talulah Gosh

- Sunny Inside

Talulah Gosh

- My World's Ending

Talulah Gosh

- Be Your Baby

Talulah Gosh

- Break Your Face

Talulah Gosh

- In Love for the Very First Time

Talulah Gosh

- Spearmint Head

Talulah Gosh

- I Told You So

Talulah Gosh

- Pastels Badge

Talulah Gosh

- Rubber Ball

Talulah Gosh

- Steaming Train (Demo)

Talulah Gosh

- I Told You So (Demo)

Talulah Gosh

- Mmm Mmm He's so Dreamy (Demo)

Talulah Gosh

- Sunny Inside (Demo)
CD Album (DAMGOOD364CD)
Talulah Gosh

- Beatnik Boy

Talulah Gosh

- My Best Friend

Talulah Gosh

- Steaming Train

Talulah Gosh

- Just a Dream

Talulah Gosh

- Talulah Gosh

Talulah Gosh

- Don't Go Away

Talulah Gosh

- Escalator Over the Hill

Talulah Gosh

- My Boy Says

Talulah Gosh

- Way of the World

Talulah Gosh

- Testcard Girl

Talulah Gosh

- Bringing Up Baby

Talulah Gosh

- I Can't Get No Satisfaction (Thank God)

Talulah Gosh

- The Girl With the Strawberry Hair

Talulah Gosh

- Talulah Gosh (Radio Session Version)

Talulah Gosh

- Do You Remember

Talulah Gosh

- Looking for a Rainbow

Talulah Gosh

- Sunny Inside

Talulah Gosh

- My World's Ending

Talulah Gosh

- Be Your Baby

Talulah Gosh

- Break Your Face

Talulah Gosh

- In Love for the Very First Time

Talulah Gosh

- Spearmint Head

Talulah Gosh

- I Told You So

Talulah Gosh

- Pastels Badge

Talulah Gosh

- Rubber Ball

Talulah Gosh

- Steaming Train (Demo)

Talulah Gosh

- I Told You So (Demo)

Talulah Gosh

- Mmm Mmm He's so Dreamy (Demo)

Talulah Gosh

- Sunny Inside (Demo)
Download Album (DAMGOOD364)