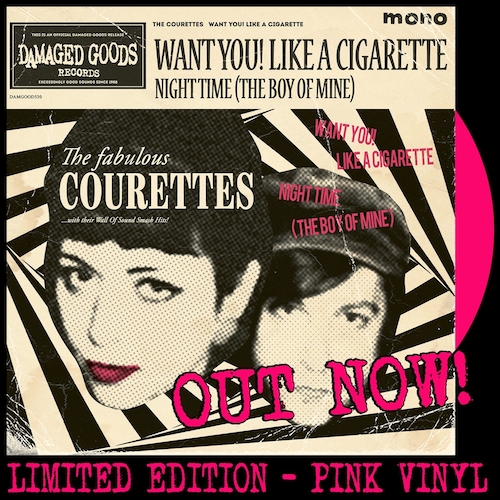 Want You! Like a Cigarette
Available Formats
Tracks
Price
Buy
7" Vinyl Single
2 tracks

£

6.99

Out of stock

Download Single (

WAV

)
2 tracks

£

1.98

Download Single (

MP3

)
2 tracks

£

1.98

Download individual tracks
From £0.99
Description
The Courettes - Want You! Like a Cigarette
New 7" single from latest DG signings! SECOND PRESSING 500 copies now on PINK vinyl!

"The real deal. The most authentic '60s inspired garage rock since Thee Milkshakes were around".
Lee Cotterell (Vive Le Rock)

The Courettes are a garage duo sensation from Brazil and Denmark!

One of the most hard working bands on the scene, The Courettes have been busy delivering their full-speed energetic performances (more than 250 concerts!) in 15 countries around Europe and Brazil.

Aside from their touring The Courettes have been hard at work at their own StarrSound Studios working on new songs for their as yet untitled third album, to be released later this year by Damaged Goods. This brand new limited edition single is taken from those sessions and is a great taster of things to come!

The duo's previous single releases include the Spectoresque single 'Christmas (I Can Hardly Wait)', a girlie pop Christmas anthem filled with fuzzed out guitars and trashy jingle bells (released by Danish label Crunchy Frog) and 'Too Late To Say I'm Sorry' 7" EP with four killer tracks recorded/mixed by Liam Watson at ToeRag Studios (released by Portuguese label Groovie Records). And not foregtting the explosive single 'Boom! Dynamite!' (Bachelor Records, Austria, 2016), and 'Hoodoo Hop', a split with Powersolo (Sounds of Subterrania, Germany, 2017)

Previous albums include Here are the Courettes (Sounds of Subterrania, Germany, 2015), a shaking live album Alive from Tambourine Studios (Chaputa Records, Portugal, 2017), and the second studio album, We Are The Courettes (Sounds of Subterrania, Germany, 2018).