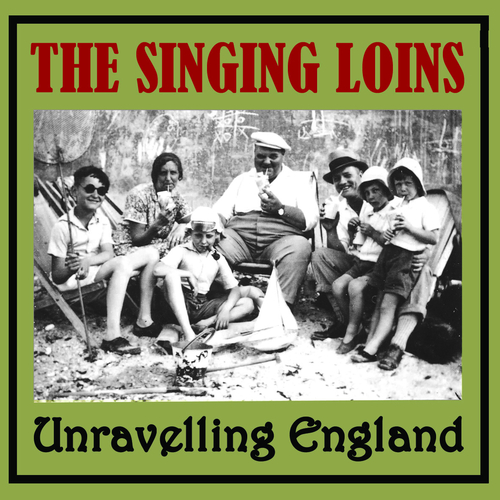 Unravelling England
Available Formats
Tracks
Price
Buy
CD Album
12 tracks

£

8.99

Download Album (

MP3

)
12 tracks

£

7.99

Download Album (

WAV

)
12 tracks

£

7.99
Description
The Singing Loins - Unravelling England
The Singing Loins are back with their tenth album, proving that genius is nothing more than gritted teeth and enduring patience.'Unravelling England' features 12 brand new songs recorded as demos over a period of 18 months on a mate's cheap digital machine. It was soon apparent that the energy and imperfection they'd captured should be released as it stood.

Chris Broderick & Chris (Arfur) Allen started The Loins as a raw, stripped down acoustic duo in 1990 and soon had Medway legend Billy Childish in their corner. He recorded their first two albums live in his bathroom onto a mono Revox tape machine and released them on his Hangman label. These savage rarities are now swapping hands for big dollars on EBay and are often quoted as major influences by young purveyors of punk/folk.

After a couple more self-released albums and an album with Billy Childish on Damaged Goods, they split in 1999. After a 6 year lay-off they shook hands and returned in 2005 with a triumphant comeback album, 'Songs To Hear Before You Die', and a year later were joined by Rob Shepherd, who played junk shop banjo and mandolin on their 2007 album, 'The Drowned Man Resuscitator'. Since then the group have gone from strength to strength with full blown sell out tours of Eastern Europe, Germany & France, plenty of American indie radio plays, and an ever increasing fan base all over the world.

Joined on 'Unraveling England by double bass player, John Forrester, The Loins offer up another dozen short stories from the end of old England's pier. Songs of underdogs, suicides, circus freaks, the bereaved, frustrated and heart-broken, the washed up and mentally ill. The jealousies, violence, hypocrisy and religion of humanity. And some pretty good tunes, too!

Tracklisting
CD Album (DAMGOOD337CD)
The Singing Loins

- Dirty Dora's

The Singing Loins

- Please Take My Scissors Away

The Singing Loins

- Old Ferry Lane

The Singing Loins

- Psycho Hippie

The Singing Loins

- The Fat Boy Of Peckham

The Singing Loins

- Since You Were My Girl

The Singing Loins

- Cunny Ann

The Singing Loins

- The Holes In The Lid

The Singing Loins

- So Sophisticated

The Singing Loins

- Everywhere

The Singing Loins

- My Town

The Singing Loins

- Song For The Underdog
Download Album (DAMGOOD337CD)