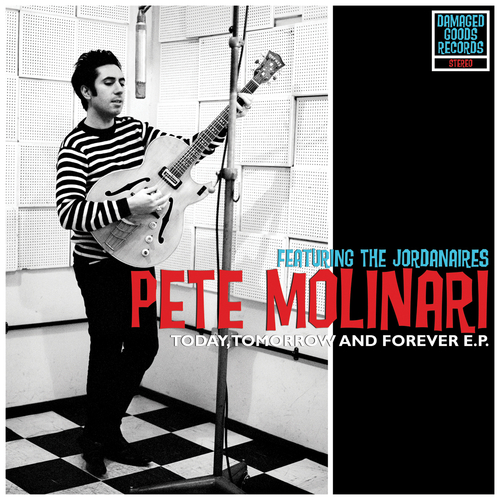 Today, Tomorrow And Forever EP
Available Formats
Tracks
Price
Buy
10" Vinyl EP
4 tracks

£

6.99

CD Album
7 tracks

£

6.49

Download Album (

MP3

)
7 tracks

£

5.99

Download Album (

WAV

)
7 tracks

£

6.93
Description
Pete Molinari Featuring The Jordanaires - Today, Tomorrow And Forever EP


Pete Molinari is back with his first new recordings since his breakthrough second album - 2008's A Virtual Landslide. This four track EP was recorded in Nashville, Tennessee at Playground Sound Studios and features four of his live favourites - covers of 'Today, Tomorrow and Forever', 'Satisfied Mind', 'Guilty' and 'Tennessee Waltz' - all backed up by the extraordinary vocal talents Of The Georgettes and the legendary Jordanaires!

The idea for this EP came about when Pete decided to take a break from preparing new material for his third album and headed over to
Nashville for a few weeks. While there he met up with a few
like-minded individuals that included producer and guitarist Adam
Landry (Hayes Carll/Allison Moorer ) with whom he enjoyed several
late night impromptu gigs. Spurred on by the success of these shows and certainly encouraged by the local reaction to his rather unique talents he decided to return a month later to record his long planned EP of covers - a selection of tracks that were not only particular favourites of Pete's but also those that had proven to be hugel popular when performed at live shows in the UK and Europe.

Hooking up once again with Adam Landry (who also produced this EP) and a number of local musicians including steel player Chris Scruggs (grandson of Earl Scruggs) the recordings surpassed all expectations but were then taken up a gear when a chance introduction to The Jordanaires - who were completely bowled over by Pete's voice and treatment of these songs - led to these legendary singers agreeing to provide backing vocals to the tracks. Even to be in the same town as these rock 'n' roll heroes was a dream come true for this boy from Chatham in Kent but to then actually record with the very same men who backed up the likes of Elvis and Patsy Cline turned the sessions into a surreal experience.

The results can be found on a limited edition 4 track 10" single and a special issue seven track mini-album (CD only) that also features for the first time on CD the B-sides from his last three 7" singles.

Reviews
'An extraordinary new British talent...4.5/5' - THE SUN
Nominated for Best Newcomer - MOJO Awards 2008
'The soul of American music distilled into the voice of a Cuban-heeled greaser from the Medway Delta' – THE GUARDIAN
'A superbly realised piece of folk blues heartache' – MOJO
"A singular talent....his distinctive voice and guitar establish him as a Medway Hank Williams. Worth investigating." - UNCUT
'Sweet-voiced blues-folk...a cherishable artefact even before you fall under the spell of the actual music' – NME
Tracklisting
10" Vinyl EP (DAMGOOD336)
Pete Molinari Featuring The Jordanaires

- Today, Tomorrow And Forever

Pete Molinari Featuring The Jordanaires

- Satisfied Mind

Pete Molinari Featuring The Jordanaires

- Tennessee Waltz

Pete Molinari Featuring The Jordanaires

- Guilty
CD Album (DAMGOOD336CD)
Pete Molinari Featuring The Jordanaires

- Today, Tomorrow And Forever

Pete Molinari Featuring The Jordanaires

- Satisfied Mind

Pete Molinari Featuring The Jordanaires

- Tennessee Waltz

Pete Molinari Featuring The Jordanaires

- Guilty

Pete Molinari

- One Stolen Moment (Acoustic)

Pete Molinari

- Ballad On A Milk Train (Acoustic)

Pete Molinari

- The Poets Dream (Acoustic)
Download Album (DAMGOOD336CD)