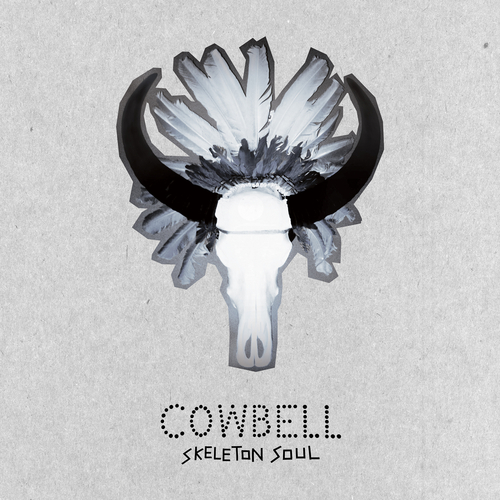 Skeleton Soul
Available Formats
Tracks
Price
Buy
12" Vinyl Album
11 tracks

£

12.99

CD Album
11 tracks

£

8.99

Download Album (

WAV

)
11 tracks

£

7.99

Download Album (

MP3

)
11 tracks

£

7.99

Download individual tracks
From £0.99
Description
Cowbell - Skeleton Soul
*COWBELL return with their second album 'Skeleton Soul' in September 2014*

Jack Sandham and Wednesday Lyle have been playing together as Cowbell since late 2009 when they got together for a late night jam session and things took off from there. Three 7" singles followed over the next 18 months and they signed to Damaged Goods in 2012. Two years on from their debut album Beat Stampede, the rockin' duo branch out into a more spooky atmospheric sound across the 11 tracks on the new album. There's a definite dark, New Orleans R&B vibe to Skeleton Soul.

Kicking off with the spaghetti western intro of the album's opening track, 'Cry Wolf' the duo cover plenty of new ground while retaining the urgency and excitement of their earlier work. Though what makes this new album so special is the evocative mood the band created with Ed Deegan at Gizzard Studio. Imagine Dr. John meets the BBC Radiophonic Workshop. The sound is still a stripped down affair, though this time round the drum 'n' guitar bones are fleshed out with a few enhancing overdubs such as the Doors-esque spiky psychedelic organ on 'She's All Over You', and some soulful saxophone on the funky, strutting 'Dirt'.

The band show they're equally adept at intimate ballads with 'Darkness In Your Heart', perhaps the best song Richard Hawley never wrote. Wednesday takes the lead vocal on 'Heart On The Line' a track which recalls the cream of '60s girl singers such as Sandie, Dusty et al. Fans of the group's earlier sound will not be disappointed either, there's still the bone-shaking garage blues numbers such as 'Oh Yolande' and 'Baby It's Your Love' along with the swampy mambo-blues groove of 'The Fear'. Imagine a band with the guitar twang of The Cramps over jungle-tribal drums, covering The Zombies and you're somewhere close.
Tracklisting
12" Vinyl Album (DAMGOOD431LP)
Cowbell

- Cry Wolf

Cowbell

- She's All Over You

Cowbell

- Oh Yolande - 3.01

Cowbell

- Baby It's Your Love

Cowbell

- Dirt

Cowbell

- Heart on the Line

Cowbell

- The Fear

Cowbell

- Darkness In Your Heart

Cowbell

- Shake the Blues

Cowbell

- Change Her Ways

Cowbell

- Heavy On My Mind
CD Album (DAMGOOD431CD)
Cowbell

- Cry Wolf

Cowbell

- She's All Over You

Cowbell

- Oh Yolande - 3.01

Cowbell

- Baby It's Your Love

Cowbell

- Dirt

Cowbell

- Heart on the Line

Cowbell

- The Fear

Cowbell

- Darkness In Your Heart

Cowbell

- Shake the Blues

Cowbell

- Change Her Ways

Cowbell

- Heavy On My Mind
Download Album (DAMGOOD431)