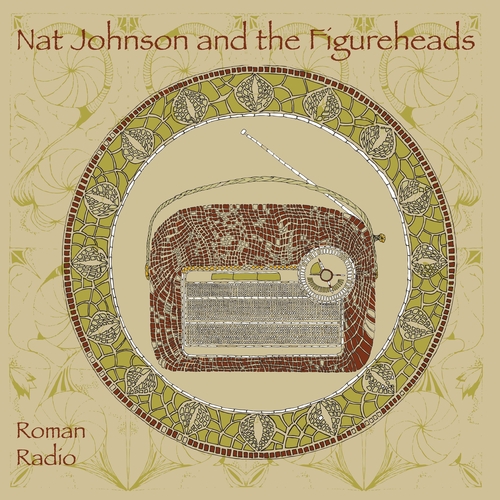 Roman Radio
Available Formats
Tracks
Price
Buy
12" Vinyl Album
13 tracks

£

13.99

CD Album
13 tracks

£

8.99

Download Album (

MP3

)
13 tracks

£

7.99

Download Album (

WAV

)
13 tracks

£

7.99
Description
Nat Johnson And The Figureheads - Roman Radio


NAT JOHNSON is the former singer, songwriter and guitarist of Monkey Swallows the Universe - a Sheffield based five piece band who released two critically acclaimed albums earlier in the decade, toured the UK with Richard Hawley, the Long Blondes and Camera Obscura, were profiled in The Sun and the Guardian, played a host of festivals and performed live sessions for the likes of XFM, 6music and Radio 4's Loose Ends.

Since the band split in 2008 Nat has embarked on what has so far proved to be a very fruitful solo career with her single for Thee Sheffield Phonographic Corporation 'Dirty Rotten Soul' made Single of the Week by Steve Lamacq on 6 Music.

Now with her debut album all recorded Nat has assembled a new backing band The Figureheads (featuring MSTU co-founder Kevin Gori, Chris Loftus of Fury of the Headteachers and Neil Piper of Champion Kickboxer) for a series of gigs throughout the Summer and Autumn - all leading up to the release of debut album 'Roman Radio' on the 19th of October preceded by the double 'A' side single 'Wonderful Emergency' b/w 'Don't Worry Baby' on the 5th of October.

Reviews
"One part folk and one part the jangle of The Smiths with the sweet, fragile, alluring voice of Nat"
- Rough Trade
"Ex-Monkey Swallows The Universe singer Johnson launches her solo career with a rattling, traditional Nashville juke-joint hoedown. Once heard, the whipsmart chorus won't be forgotten."
- Channel 4 Teletext
"Window casing two sides of her considerable talents, she delivers galloping country (Dirty Rotten Soul) and delicate folk (Mexico) with aplomb, both displaying her lovely rounded vocals and ear for a melody." - Sounds XP
Tracklisting
12" Vinyl Album (DAMGOOD342LP)
Nat Johnson And The Figureheads

- Agnes

Nat Johnson And The Figureheads

- Wonderful Emergency

Nat Johnson And The Figureheads

- Wasted

Nat Johnson And The Figureheads

- Envy

Nat Johnson And The Figureheads

- January

Nat Johnson And The Figureheads

- Careful

Nat Johnson And The Figureheads

- Truth Song

Nat Johnson And The Figureheads

- Dirty Rotten Soul

Nat Johnson And The Figureheads

- This Tide Will Turn

Nat Johnson And The Figureheads

- Oh, Face!

Nat Johnson And The Figureheads

- Watching For Life

Nat Johnson And The Figureheads

- Interlude

Nat Johnson And The Figureheads

- All This
CD Album (DAMGOOD342CD)
Nat Johnson And The Figureheads

- Agnes

Nat Johnson And The Figureheads

- Wonderful Emergency

Nat Johnson And The Figureheads

- Wasted

Nat Johnson And The Figureheads

- Envy

Nat Johnson And The Figureheads

- January

Nat Johnson And The Figureheads

- Careful

Nat Johnson And The Figureheads

- Truth Song

Nat Johnson And The Figureheads

- Dirty Rotten Soul

Nat Johnson And The Figureheads

- This Tide Will Turn

Nat Johnson And The Figureheads

- Oh, Face!

Nat Johnson And The Figureheads

- Watching For Life

Nat Johnson And The Figureheads

- Interlude

Nat Johnson And The Figureheads

- All This
Download Album (DAMGOOD342)