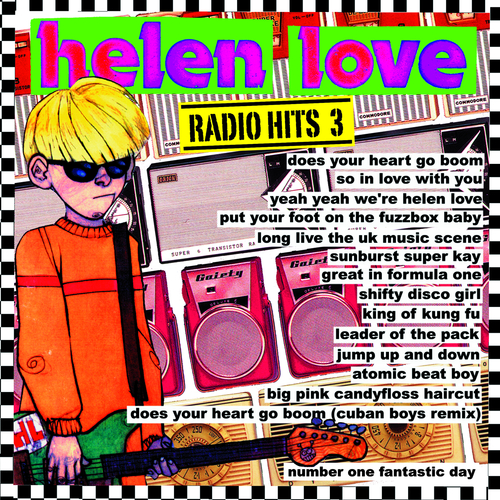 Radio Hits 3
Available Formats
Tracks
Price
Buy
12" Vinyl Album
15 tracks

£

13.99

CD Album
15 tracks

£

8.99

Out of stock

Download Album (

MP3

)
15 tracks

£

7.99

Download Album (

WAV

)
15 tracks

£

7.99
Description
Helen Love - Radio Hits 3
Yep you guessed it Volume 3 of the Helen Love singles comps, this one features all their Che releases, 'Does Your Heart Go Boom', Long Live The UK Music Scene'.....plus an unreleased gem too.
Helen Love started life as a one off single around the Riot Grrl period in 1993, I had received a demo from Dave who was in Lovesick and it was great. It came out in late 93 and it sold pretty well but no press or anything followed, we decided to do another single which was 'Joey Ramoney', as soon as this was released we had a call from Everett True from the Melody Maker who wanted to do an interview. Mark Radcliffe started playing them on Radio 1 and it all started looking really good for the three girls from Swansea.

Wat Tyler had wanted to do a xmas single that year so I asked Helen Love to come up with a Xmas track, Happiest time of the year arrived in the post and was duly released (just after xmas I think). By early 94 they had finished there third proper single 'Punk Boy'. It got great reviews and led onto an 'On' piece in the NME. It was later covered by Ash on their Fierce Panda single. Around this time Joey Ramoney got in touch with the band saying how much he liked their stuff and inviting them to go over to the states to play at his club, very exciting times.

Their next release was a 10" mini album 'Summer Pop, Punk Pop' with 6 tracks on it, this went straight in at No. 4 in the indie charts. A compilation of all their early singles was released soon after caller 'Radio Hits'. After that we did 4 more singles over the next two years and another singles compilation called Radio Hits 2 before they jumped ship and signed a worldwide deal with Che Records.

After 54 years away Helen Love returned to Damaged Goods in late 2001 and released another now deleted Xmas single (DG 206) and we have also re-released their Che album, on vinyl as well as a repackaged CD. We've also just done another compilation of single tracks called (surprisingly) Radio Hits 3.


Tracklisting
12" Vinyl Album (DAMGOOD203LP)
Helen Love

- Does You Heart Go Boom

Helen Love

- So In Love With You

Helen Love

- Yeah Yeah We're Helen Love

Helen Love

- Put Your Foot On The Fuzzbox Baby

Helen Love

- Long Live The UK Music Scene

Helen Love

- Sunburst Super Kay

Helen Love

- Great In Formula One

Helen Love

- Shifty Disco Girl

Helen Love

- King Of Kung Fu

Helen Love

- Leader Of The Pack

Helen Love

- Jump Up And Down

Helen Love

- Atomic Beat Boy

Helen Love

- Big Pink Candyfloss Haircut

Helen Love

- Does Your Heart Go Boom (Cuban Boys Remix)

Helen Love

- Number One Fantastic Day
CD Album (DAMGOOD203CD)
Helen Love

- Does You Heart Go Boom

Helen Love

- So In Love With You

Helen Love

- Yeah Yeah We're Helen Love

Helen Love

- Put Your Foot On The Fuzzbox Baby

Helen Love

- Long Live The UK Music Scene

Helen Love

- Sunburst Super Kay

Helen Love

- Great In Formula One

Helen Love

- Shifty Disco Girl

Helen Love

- King Of Kung Fu

Helen Love

- Leader Of The Pack

Helen Love

- Jump Up And Down

Helen Love

- Atomic Beat Boy

Helen Love

- Big Pink Candyfloss Haircut

Helen Love

- Does Your Heart Go Boom (Cuban Boys Remix)

Helen Love

- Number One Fantastic Day
Download Album (DAMGOOD203CD)