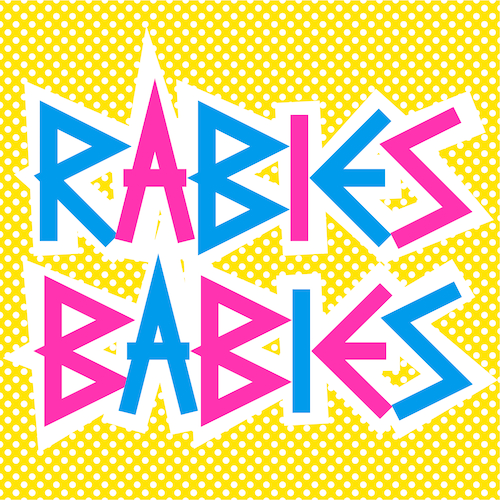 Rabies Babies
Available Formats
Tracks
Price
Buy
10" Vinyl EP
6 tracks

£

14.99

Download EP (

WAV

)
6 tracks

£

5.94

Download EP (

MP3

)
6 tracks

£

5.94

Download individual tracks
From £0.99
Description
Rabies Babies - Rabies Babies
Debut 10" mini LP! 300 Copies on white vinyl! Includes Zine, sticker, postcard & screen-printed sleeve!

PLEASE NOTE: There are SIX HAND-PRINTED variations of the sleeve, all DAYGLO and all bloody great, if you order one to five you'll get our choice...if you order SIX then you'll get one of each.

Rabies Babies make fast, fun and angry songs about crashing the party and smashing the patriarchy. We are anarchic garage punk born from the DIY squat scenes of 1980s & 90s New York and London. Our sound is raw and dirty, with a feel of early Black Flag, Kleenex and The Slits.
Even though we've been playing since 1999 we were always more bothered about making bizarre costumes than making records. Rabies Babies were more concerned with having a shout and having fun than getting a record deal, so our mini album on Damaged Goods is our first release. When Ian asked us if we would record for Damaged Goods we said yes because we love so many of the great records on the label, and could not pass by the opportunity to share a catalogue number prefix with some of our favourite musicians.
Our mini album is two sided. Side one is songs of anger…
'Rape is Rape, Even If The Rapist Is In A Band That You Like' is comprised of comments made on social media when men in punk bands are accused of sexual assault and the victim is blamed:
They say "I heard she was a flirt, I heard they were kissing, it must have been her fault, did you see what she was wearing?"
'On Your Bike' is about casual sexism in cycling. All three of us cycle to work so we recalled our experiences and made them into the song.
'I just want to ride to work, I don't remember asking you, so don't tell me about my bike. No, I'm not an uptight bitch'.
Side B is the fun side…
'Party' is a story of a 3 day bender.
'La La La' is a song for everyone to sing along. This song is most popular in France, and is our only song that is swear-word free.
'I Fought the Floor and The Floor Won' is a monday morning dialogue after a lost weekend. 'Waking up on Monday with bruises on my knees, I wish I could remember what I said or where I'd been'.
The six songs were recorded and mixed by Tim Cedar of Part Chimp and mastered by Joe Caithness.
Location - East London
About - feminist, fast, funny, furious, DIY as fuck.
Biography - Making noise since 1999.
Gender - Female
Influences - The Patriarchy: it makes us want to kick its arse while we laugh in its face.
Tracklisting
10" Vinyl EP (DAMGOOD531V)
Download EP (DAMGOOD531)
Rabies Babies

- Rape is Rape, Even if the Rapist is in a Band That You Like

Rabies Babies

- On Yer Bike

Rabies Babies

- Madhouse

Rabies Babies

- Party

Rabies Babies

- La La La

Rabies Babies

- I Fought the Floor and the Floor Won