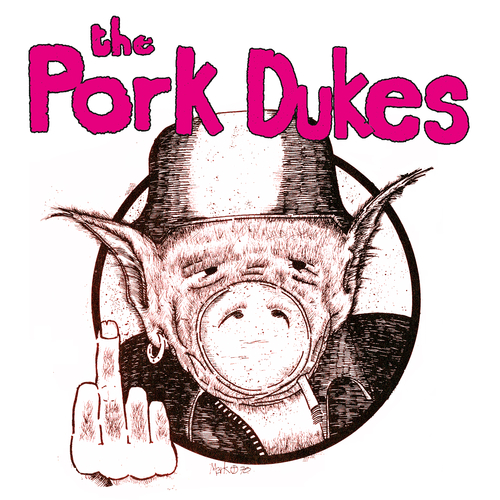 Pink Pork
Available Formats
Tracks
Price
Buy
12" Vinyl Album
14 tracks

£

13.99

Download Album (

WAV

)
14 tracks

£

7.99

Download Album (

MP3

)
14 tracks

£

7.99

Download individual tracks
From £0.99
Description
The Pork Dukes - Pink Pork
Limited edition repress of the first Pork Dukes LP with a brand new cover and once again on lovely PINK vinyl. 1000 copies only.
The band was originally composed of twin brothers and former  Gnidrolog members Colin Goldring (vox/git) and Stewart Goldring (git/vox) using the pseudonyms Vilos and Horrendus Styles, respectively – alongside Scabs (aka Nigel Pegrum of Steeleye Span) (bass git), Germun LePig (drums) (later replaced by Bonk aka. Rocky Rhythm) and Mack E. Valley (keyboards). He was later replaced by Guardian Angel prior partway through the recording sessions for the second album.
Combining a Buzzcocks-style pop punk sound with bawdy subject matter, gross-out toilet humour and profanity in their songs, the band released their debut single "Bend and Flush" b/w "Throbbing Gristle" in 1977 on Wood Records, a subsidiary of Caroline Records UK  created specifically for the band. Due to the lyrical content of their recordings, the band struggled for airplay, though it was known that BBC Radio 1 DJ John Peel was a fan.
The true identities of the Pork Dukes were originally a closely guarded secret, the band playing in pig masks during live performances. Various rumours circulated amongst fans and in the music press that the band was actually Led Zeppelin, Steeleye Span,  The Rezillos, Fairport Convention or Tenpole Tudor in disguise. It was also suggested that either Keith Moon or Dudley Moore may have been lead singer.
The controversy surrounding the band and backlash from feminist  groups led to them being unable to find a management company to represent them or perform at large venues (gigs were frequently played unannounced at small community centres to avoid protesters). Towards the end the band were reduced to playing gigs at mental institutions (Vilos Styles was training to become a psychiatric nurse at this point) to entertain the patients.
Following the release of the Pink Pork album and three singles on Wood Records, the band broke up in 1979, with the album Pig Out of Hell being released posthumously by Wood in 1981. Bonk (aka. Rocky Rhythm) later played for The Revillos, Tenpole Tudor and The Damned frontman Dave Vanian's Phantom Chords.

Tracklisting
12" Vinyl Album (DAMGOOD439LP)
Download Album (DAMGOOD439)
The Pork Dukes

- Dirty Boys

The Pork Dukes

- Stuck on You

The Pork Dukes

- Bend and Flush

The Pork Dukes

- Melody Makers

The Pork Dukes

- Telephone Masturbator

The Pork Dukes

- Sick of Sex

The Pork Dukes

- Making Bacon

The Pork Dukes

- Down Down Down

The Pork Dukes

- Soho Girls

The Pork Dukes

- Tight Pussy

The Pork Dukes

- Big Tits

The Pork Dukes

- Penicillin Princess

The Pork Dukes

- Loser

The Pork Dukes

- Throbbing Gristle