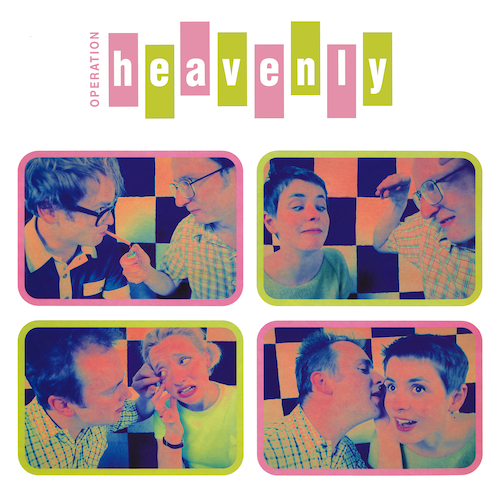 Operation Heavenly
Available Formats
Tracks
Price
Buy
Download Album (

WAV

)
11 tracks

£

7.99

Download Album (

MP3

)
11 tracks

£

7.99

Download individual tracks
From £0.99
Description
Heavenly - Operation Heavenly
Heavenly's classic final album, newly available via all digital outlets!
Originally released by WIIJA and K Records in 1996.

A potted history of Heavenly...
Heavenly debuted with the 7" single 'I Fell in Love Last Night', followed by another 7", 'Our Love Is Heavenly', both released in 1990 on Sarah Records. Heavenly vs. Satan, the group's debut album, came out in 1991. At this stage in their career, Heavenly's songs were still mainly concerned with an innocent view of love, whether or not requited, and the instrumentation remained very much the same jangly guitar style used by Talulah Gosh.

Before releasing the critically acclaimed Le Jardin de Heavenly, Cathy Rogers (keyboard, back-up vocals) joined the band. Her harmony vocals and keyboards became an integral part of the group's sound. Another strikingly different element of the group's second album was the inclusion of the track, 'C is the Heavenly Option', featuring the guest vocals of K Records founder Calvin Johnson.

Before their next long-player, Heavenly released two non-album 7" singles, 'P.U.N.K. Girl' and 'Atta Girl'. These signalled a growing complexity in Amelia's songwriting, particularly 'Atta Girl', in which Amelia and Cathy sung in rapid-fire trade-off vocals. A broadening (and darkening) of lyrical subject matter was shown in the B-side, 'Hearts and Crosses', which told the story of a date rape, with an upbeat keyboard riff providing an ironic counterpoint.

The band's third LP was The Decline and Fall of Heavenly (1994). Here the group were at their most commercial and at their most attuned with the growing Britpop movement. The arrangements expanded even more to include strings and a large amount of percussion, and the dual-vocal trick was used on several tracks. Lyrically, the old romantic view of love was largely banished, with tracks such as Modestic' and 'Three Star Compartment' portraying people trapped in loveless relationships and 'Sperm Meets Egg, So What?' (the title adapted from McCarthy's 'Boy Meets Girl, So What?') being about an unwanted pregnancy. The tunes remained as jolly as ever. In 1995, the band contributed the song 'Snail Trail' to the AIDS benefit album Red Hot + Bothered produced by the Red Hot Organization.

The group's last album was Operation Heavenly (1996). Arriving in the middle of the Britpop boom, the album contained a cover of the Serge Gainsbourg-penned and France Gall-performed 'Nous ne sommes pas des anges', sung entirely in French by Amelia. Despite the closing of Sarah Records and release on Wiiija, the album was still recognisably the Heavenly sound, and even included a second Calvin Johnson guest spot on the track 'Pet Monkey.' However, shortly before the release of Operation Heavenly, Mathew Fletcher, the band's drummer and Amelia's brother, took his own life. The remaining members announced that the band name Heavenly was to be retired.
Tracklisting
Download Album (DAMGOOD533)