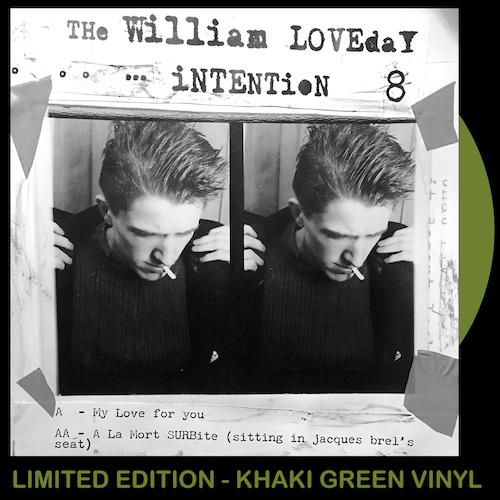 My Love For You 7" (KHAKI GREEN VINYL)
| Format | Price | Buy |
| --- | --- | --- |
| My Love For You 7" (KHAKI GREEN VINYL) | £9.99 | |
Description
The William Loveday Intention - My Love For You 7" (KHAKI GREEN VINYL)
Debut single from William Loveday! 150 copies on KHAKI GREEN VINYL!

'My Love for you' has a spaghetti western/Ennio Morricone feel. Were those classic western films and soundtracks an inspiration for you growing up?

The young William Loveday did see those movies on release as his father was a fan and took him along to see them. William himself was never a great fan, but it seems that something left a stain on his consciousness.

Who sings the lead vocal?

J.W.Loveday. There are one or two other songs that J.W. Loveday has sung on - but she is hard a hard girl to nail down.

Who played the brass on the recording?

Tom Morley is the trumpet player for the William Loveday Intention.

'A La Mort Surbite (sitting in Jacques Brel's Seat)' is the single's other song, what inspired the lyrics for it?
William Loveday's many visits to Belgium in the 1980s to see his love interest (who was flemish). This song is about the bar A La Mort Surbite (the Sudden Death) in Brussels were they would often go to drink.

Will there be any other releases by The William Loveday Intention or just this single?

The William Loveday Intention are currently recording 5 LPs.