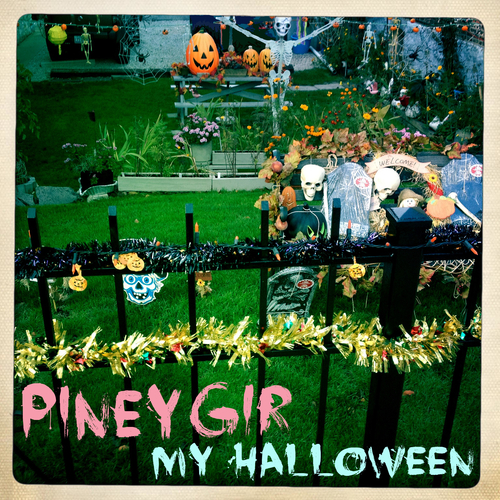 My Halloween
Available Formats
Tracks
Price
Buy
Download Single (

WAV

)
3 tracks

£

2.97

Download Single (

MP3

)
3 tracks

£

2.97

Download individual tracks
From £0.99
Description
Piney Gir - My Halloween
"I've got a shiny black coffin, with room enough for two," coos Piney Gir in this musical treat with a sassy bag of tricks thrown in for good measure. My Halloween is set for release on October 28th, just in time for the annual day of the dead.
Inspired by her favourite holiday, Piney couldn't let Halloween pass her by this year without writing a song especially for it. For those of you who are just discovering Piney Gir, she is from Kansas and was subject to a strict religious upbringing, so growing up in the Bible Belt meant that Halloween was the one night a year where she could dress up and be anything she wanted to be (luckily she was allowed to celebrate the festive event). "Us kids would hang around in packs and go trick or treating. It was empowering, it represented a night of freedom, a time when I could go a little bit wild, howling at the moon and getting high on too much sugar... For one night I could be something else and eat lots of candy, both of these things were really appealing!" recalls Piney. "Then when we got older, Halloween was a holiday for different kinds of wildness, we're talking Lost Boys-esque, rebel-cave hide-aways with moonshine in a jar and citrus raves in warehouses down by the docks, dancing to bands like Book of Love and the KLF. Halloween was the ultimate escape." And escape she did! She's lived in London for over a decade now, "But I still miss a good ol' American-style Halloween," says Piney.
The lead track My Halloween was spurred on by reruns of The Munsters and Twin Peaks, it's a playful, twisted take on the macabre… channelling Nancy Sinatra by way of David Lynch; guaranteed to help you get in touch with your inner vampire!
B-side Family Portrait is about being haunted by memories of the past, but there's warmth to these memories, a welcome spirit from days gone by. "It's fond recollections of pumpkin-carving with your Mom… or going on a haunted hayride for a school trip. I remember how I was always scared of bobbing for apples because I thought I would drown. It's about nostalgia but also about the mystery of what's coming next," explains Piney.
Last but not least, Ghost of The Year is a duet seeing Piney partner up with her L.A.-based friend Correatown. Angela Correa happened to be in London on a song writing trip and popped into Hackney's, Dreamtrak studios to hone her song with Oli Horton, Piney and Garo Nahoulakian to create this beautiful and heartfelt ballad. Laden with sweet, honeyed harmonies like a modern homage to Simon and Garfunkel, featuring distant slide guitars reminiscent of Brian Eno's Apollo; it curses a ghost that's been "chasing you around."
Piney Gir's My Halloween single is due for release on Damaged Goods Records, October 28th 2013. A full length Piney album is due for release early next year.