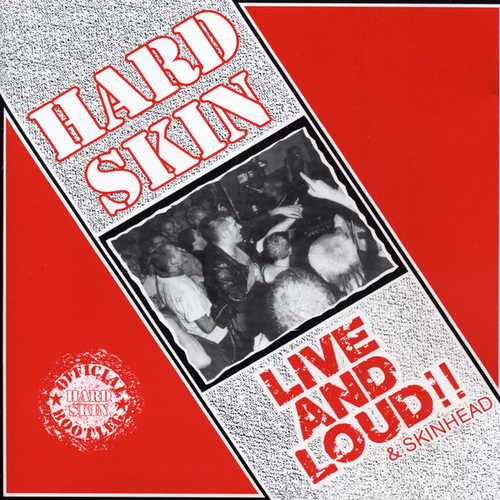 Live And Loud & Skinhead
Available Formats
Tracks
Price
Buy
12" Vinyl Album
12 tracks

£

13.99

Out of stock

CD Album
12 tracks

£

8.99

Download Album (

MP3

)
12 tracks

£

7.99

Download Album (

WAV

)
12 tracks

£

7.99
Description
Hard Skin - Live And Loud & Skinhead
Hardskin RULE, well they are very good.

Hailing from South London, Gipsy Hill in fact and featuring Johnny Takeaway, Fat Bob and Nosher (later replaced by Nipper) they appeared on the 'Oi'scene in London in the mid 90's with the debut album Hard Skins and Hard Cunts (on Helen Of Oi records). Followed by 'Same Meat Different Gravy' on Household Name Records.

They first featured on Damaged Goods on the Double 7" single The New Wave Of The Close Shave (Damgood 111) with 6 other bands including OiZONE OiASIS and UNION JOCK. This is long since sold out.

We released the great live album of the Hard Skin experience Live And Loud And Skinhead (Damgood 167). It's worth buying for the banter between the tracks alone.

They are still going, recent gigs include a tour of Japan and their now regular Christmas shows filling the gap left by Gary Glitter!
Tracklisting
12" Vinyl Album (DAMGOOD167LP)
Hard Skin

- Oi Not Jobs

Hard Skin

- Jocky On The Oche

Hard Skin

- Every Day Every Weekend

Hard Skin

- The Good Times

Hard Skin

- Down The Pub

Hard Skin

- Hard Skin

Hard Skin

- ACAC

Hard Skin

- XR3

Hard Skin

- First Day Angry Song

Hard Skin

- Beer And Fags

Hard Skin

- Desperation Street

Hard Skin

- If The Kids Are United
CD Album (DAMGOOD167CD)
Hard Skin

- Oi Not Jobs

Hard Skin

- Jocky On The Oche

Hard Skin

- Every Day Every Weekend

Hard Skin

- The Good Times

Hard Skin

- Down The Pub

Hard Skin

- Hard Skin

Hard Skin

- ACAC

Hard Skin

- XR3

Hard Skin

- First Day Angry Song

Hard Skin

- Beer And Fags

Hard Skin

- Desperation Street

Hard Skin

- If The Kids Are United
Download Album (DAMGOOD167CD)