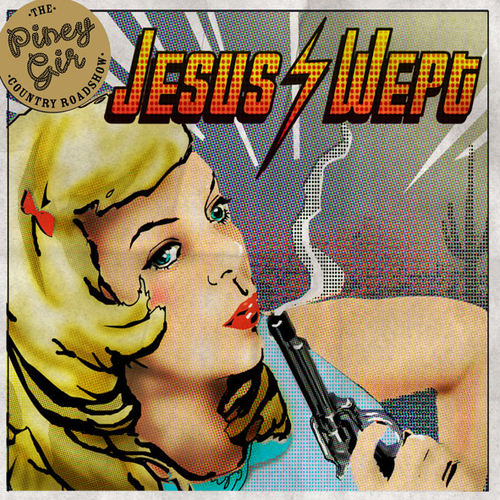 Jesus Wept
Available Formats
Tracks
Price
Buy
CD Album
13 tracks

£

8.99

Download Album (

MP3

)
13 tracks

£

7.99

Download Album (

WAV

)
13 tracks

£

7.99
Description
The Piney Gir Country Roadshow - Jesus Wept
Piney Gir taunts traditional country music with a big city edge… Jesus Wept is a nod to Piney's strict religious upbringing and her urge to walk the line between naughty and nice. There comes a time when everyone should question their faith and Piney (with the help of her trusty Roadshow) has channelled that into a record. A record that's a little bit country, a little bit rock 'n' roll and a whole lot of attitude.

Jesus Wept is more than a froth of petticoats in a fresh summer field, it's Ingmar Bergman's 'Seventh Seal' twisted through the eyes of a local drunk at the truck stop honky tonk. It's fun but it's dark and you don't know if you should like it so much but you do, so have another whiskey.

Previously Piney has been compared to her heroes like Patsy Cline, Loretta Lynn, Tammy Wynette; she's been hailed an 'indie Dolly Parton." But this album is more Emmylou Harris in her Gram Parsons days, it's little girl lost… it's the devil in disguise and the devil looks good. This album sees Piney grow up and face hard facts; hard facts that can make many a country song that much better. "'A tear in my beer' ain't the half of it," says Piney.

Jesus Wept is Piney's book of revelations and she's taking you with her to heaven and back.
Tracklisting
CD Album (DAMGOOD358CD)
The Piney Gir Country Roadshow

- 40 Days And Nights

The Piney Gir Country Roadshow

- I Was Born In A Thunderstorm

The Piney Gir Country Roadshow

- The Sheriff Of San Miguel

The Piney Gir Country Roadshow

- Master/Mistress

The Piney Gir Country Roadshow

- Fast Cryin'

The Piney Gir Country Roadshow

- Lucky Me

The Piney Gir Country Roadshow

- Claw Machine

The Piney Gir Country Roadshow

- Imaginary Baby

The Piney Gir Country Roadshow

- Dog 'n' Bone

The Piney Gir Country Roadshow

- Great Grey Belly

The Piney Gir Country Roadshow

- I'm Better Off Without A Piece Of A Shell Of A Man

The Piney Gir Country Roadshow

- Fly South

The Piney Gir Country Roadshow

- Pray I Never Wake To Tell
Download Album (DAMGOOD358)