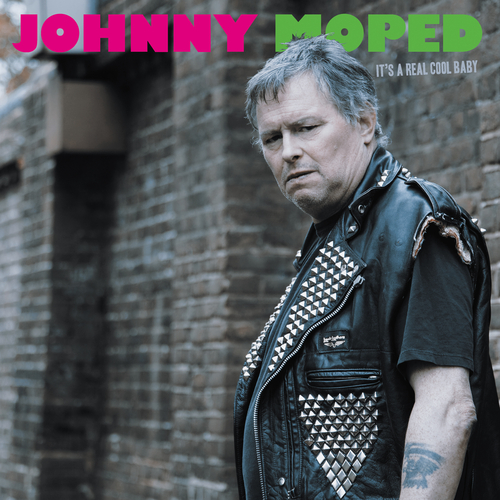 It's a Real Cool Baby
Available Formats
Tracks
Price
Buy
12" Vinyl Album
16 tracks

£

14.99

Cassette Album
16 tracks

£

9.99

CD Album
16 tracks

£

8.99

Out of stock

Download Album (

WAV

)
16 tracks

£

7.99

Download Album (

MP3

)
16 tracks

£

7.99

Download individual tracks
From £0.99
Description
Johnny Moped - It's a Real Cool Baby
*Johnny Moped's first album since 1990's The Search For Xerxes!*

*16 tracks on gatefold LP (2nd press, now on black vinyl), digipak CD and cassette (limited to 100 copies only)!*

FOR SIGNED BUNDLE OPTIONS SEE HERE -
https://damagedgoods.greedbag.com/dept/~johnny-moped-bun/

It's 38 years since their debut album Cycledelic came out to an unsuspecting public via the legendary Chiswick Records label…and now (apart from the Search For Xerxes album) the remaining three original members of Johnny Moped, that's Johnny Moped, Slimy Toad and Dave Berk, are back with a brand new album called It's A Real Cool Baby.
 
It's a sixteen track mix of new songs and a revisit to a few live favourites that never got recorded back in their heyday including 'I Wanna Die' and 'I Believed Her Lies'
 
The original three Mopeds have been joined by long time live members, Jacko Pistorious and Rock N Roll Robot (also know as Rob from legendary Ska/Punk band 'Case')
 
They released their first 7" for 37 years on Damaged Goods last year, 'Ain't No Rock N' Roll Rookie' hit the number 3 position in the UK vinyl chart and was warmly received by Moped fans as "sounding just like a Johnny Moped single", no higher praise could be awarded!
 
A second single called 'Real Cool Baby' is due out in late January and like the first it will have a non-album exclusive track on the B-side…and come in two different vinyl colours.
 
After last year's appearance at Blackpool's Rebellion festival they will be hitting the road in April for an album launch show at the Lexington in London and plans are afoot for more dates in the UK, Europe and possibly further afield after that.
Tracklisting
12" Vinyl Album (DAMGOOD450LP)
Cassette Album (DAMGOOD450CS)
Johnny Moped

- Real Cool Baby

Johnny Moped

- Ain't No Rock 'n' Roll Rookie

Johnny Moped

- Everything Is You

Johnny Moped

- I Believed Her Lies

Johnny Moped

- Bert Bullethead

Johnny Moped

- Give It Up

Johnny Moped

- Simon Can't

Johnny Moped

- Post Apocalyptic Love Song (The End)

Johnny Moped

- Musical Bore

Johnny Moped

- I Want To Die

Johnny Moped

- Super Woofa

Johnny Moped

- He's Got It

Johnny Moped

- Honey Bun

Johnny Moped

- Paint My Aubergine

Johnny Moped

- Running Scared

Johnny Moped

- Something In My Head
CD Album (DAMGOOD450CD)
Johnny Moped

- Real Cool Baby

Johnny Moped

- Ain't No Rock 'n' Roll Rookie

Johnny Moped

- Everything Is You

Johnny Moped

- I Believed Her Lies

Johnny Moped

- Burt Bullet Head

Johnny Moped

- Give It Up

Johnny Moped

- Simon Can't

Johnny Moped

- Post Apocalyptic Love Song (The End)

Johnny Moped

- Musical Bore

Johnny Moped

- I Want to Die

Johnny Moped

- Super Woofa

Johnny Moped

- He's Got It

Johnny Moped

- Honey Bun

Johnny Moped

- Aubergine

Johnny Moped

- Running Scared

Johnny Moped

- Something In My Head
Download Album (DAMGOOD450)
Johnny Moped

- Real Cool Baby

Johnny Moped

- Ain't No Rock 'n' Roll Rookie

Johnny Moped

- Everything Is You

Johnny Moped

- I Believed Her Lies

Johnny Moped

- Burt Bullet Head

Johnny Moped

- Give It Up

Johnny Moped

- Simon Can't

Johnny Moped

- Post Apocalyptic Love Song (The End)

Johnny Moped

- Musical Bore

Johnny Moped

- I Want to Die

Johnny Moped

- Super Woofa

Johnny Moped

- He's Got It

Johnny Moped

- Honey Bun

Johnny Moped

- Aubergine

Johnny Moped

- Running Scared

Johnny Moped

- Something In My Head