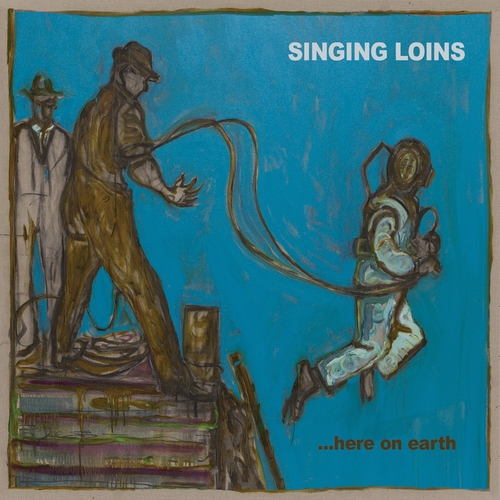 Here on Earth
Available Formats
Tracks
Price
Buy
CD Album
12 tracks

£

8.99

Download Album (

MP3

)
12 tracks

£

7.99

Download Album (

WAV

)
12 tracks

£

7.99

Download individual tracks
From £0.99
Description
The Singing Loins - Here on Earth
It's the TWELTH album they've released in a career dating back to the late 1980's, The Loins began having a laugh 20 years ago with two utterly live, mono, vinyl only LP releases on Billy Childish's gorgeously Luddite record label, Hangman.
Ever enduring outsiders, it's likely they are now the world's longest serving, truly amateur, original musical group. Their very creative strength is derived from ordinary lives of day jobs, families and mortgages.
Perversely un-ambitious, they remain untainted, uncorrupted, and above all else, still doing it for the reason they started doing it - Love.

This album marks a change in the bands sound, nothing too drastic but it's a bigger, ballsier sound, probably due to the addition of John Forrester on double bass plus a few others at the recording and the ever great, Jim Riley at Ranscome in Rochester…my dear!.

The cover is a painting by long term friend of the band, Billy Childish,, taken from his latest show at Chatham Dockyard.
Tracklisting
CD Album (DAMGOOD405CD)
The Singing Loins

- Hello Heaven

The Singing Loins

- Monsters Ashore

The Singing Loins

- Crying Out Loud

The Singing Loins

- My Darling

The Singing Loins

- Harbour Wall (St Ives)

The Singing Loins

- Crown of Roses

The Singing Loins

- Close Your Eyes

The Singing Loins

- Happy Me Up

The Singing Loins

- Drunk & Fed

The Singing Loins

- Try

The Singing Loins

- Alien

The Singing Loins

- With All Your Blessed Heart
Download Album (DAMGOOD405)