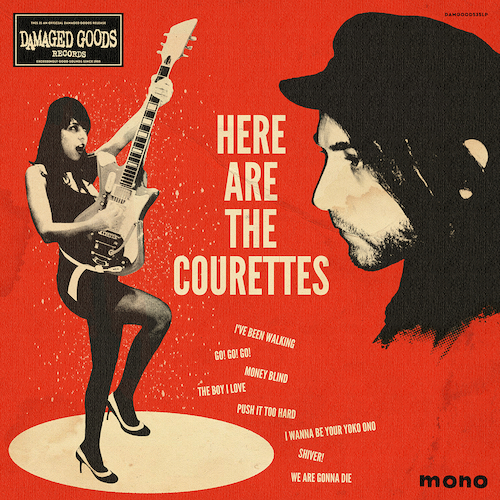 Here Are The Courettes (BLACK VINYL LP)
| Format | Price | Buy |
| --- | --- | --- |
| Here Are The Courettes (BLACK VINYL LP) | £18.99 | |
Description
The Courettes - Here Are The Courettes (BLACK VINYL LP)
Remastered reissue of debut LP with new sleeve artwork!

The Courettes´ debut album from 2015. Recorded in only two days by Kim Kix from the iconic PowerSolo in a small, cramped studio in Denmark. Unpolished tunes - fresh, raw and alive tunes - and the garage is shaking! Minimal overdubs, no editing, no auto tune, no bullshit. Punk straight out of the garage and a lot of riot grrrl charisma.
Mixed by Kim Kix and Nikolaj Heyman. The album features eight original songs all in Mono. Now it's reissued with a new sleeve and new mastering making it sound better and louder than ever!

The Courettes are an explosive garage rock duo from Denmark/Brazil, highly praised by the world's coolest music magazines. Their first single for Damaged Goods, 'Want You! Like A Cigarette', was released in 2020 in the middle of the Covid-19 pandemic and received airplay on BBC6 Music in the UK and spins at P6Beat and P4 in Denmark. "This extraordinary 45 marries a super-charged pop top side to a charging, rampaging flip" wrote Kieron Tyler (MOJO). A brand new single, 'Hop The Twig', followed in Spring 2021.
Back In Mono, the duo's third album is being mixed now in Japan by Wall of Sound aficionado Seike Sato and shows the band in top form, with great songwriting and Spector-esque arrangements. The album also see them add broader nuances, influences and sound qualities to their garage rock recipe. The tunes are teen-trash-tragedy garage meets The Ronettes and The Ramones in Gold Star Studios' echo chamber. Fuzz guitars, loud drums, trashy pianos, jingle bells, tambourines and three-minute dance floor garage killers where a Wall of Sound blasts the songs out of the speakers! The album will be released in Autumn 2021 on Damaged Goods Records.