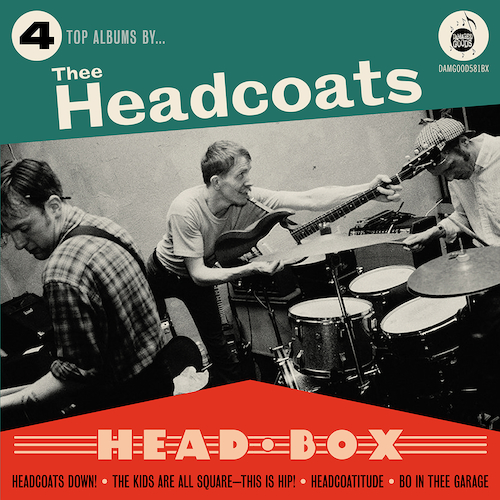 Head Box
| Format | Price | Buy |
| --- | --- | --- |
| Head Box | £18.99 | |
Description
Thee Headcoats - Head Box
A boxed set of 4 CDs featuring four classic albums by Thee Headcoats!

We present four albums by Thee Headcoats in a clamshell box set complete with booklet. With exclusive new artwork by Bruce Brand at Arthole!

The four albums in the set are -

Headcoats Down!
The Kids are all Square, This Is Hip!
Headcoatitude
W.O.A.H! Bo in Thee Garage

Thee Headcoats was a band formed in Chatham, Kent, England in 1989, that was well known for its garage rock sound, explicitly sticking to this style on almost all of their albums. The band's signature sound as well as their prolific writing has been attributed to Billy Childish's love of simple, direct recording. The band has been on multiple labels including Billy's own Hangman Records, Damaged Goods and Sub Pop.

Described in the New York Times as 'the king of garage rock', Thee Headcoats had their roots in the British punk scene of the 1970s (both Billy and Bruce playing in The Pop Rivets and The Milkshakes). The band recorded songs by The Clash under the pseudonym Thee Stash. The band also recorded tribute albums to Bo Diddley and Jimmy Reed. Their debut album featured new versions of songs recorded by Son House including 'John the Revelator' and 'Child's Death Letter', both of which were later covered by The White Stripes upon whom Billy and Thee Headcoats were a great influence. These influences give a good indication of the band's sound; punk mixed with pure rhythmic rock 'n' roll and blues.