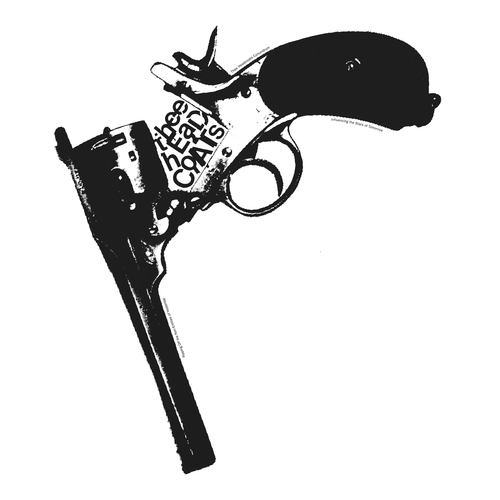 Conundrum
Available Formats
Tracks
Price
Buy
12" Vinyl Album
14 tracks

£

17.99

Download Album (

WAV

)
14 tracks

£

7.99

Download Album (

MP3

)
14 tracks

£

7.99

Download individual tracks
From £0.99
Description
Thee Headcoats - Conundrum
The Undisputed Kings of Garage Rock!

**Reissue of their long out of print classic! Now on black vinyl!**

"Ripping off the Non-Entities of Yesterday, Influencing the Stars of Tomorrow..."

So it was written on the back sleeve of Conundrum on its initial release, almost a decade before The White Stripes and The Hives broke through. How prescient they were!
Thee Headcoats were mainly Billy Childish (Git/Vox) Bruce Brand (Drums) and Johnny Johnson (bass), they formed in 1989 after Billy's previous band Thee Mighty Caesars gave up the ghost. By 1992 they had already released something like 6 albums and 15 singles.

This is a reissue of their classic album from 1993, originally released on Steve Turners (Mudhoney) legendary garage label SUPER ELECTRO RECORDS in the USA and later by Billy Childish's HANGMANS DAUGHTER Records in the UK.

It features two of their classic singles 'Every Bit Of Me' (originally a Damaged goods 7″) and 'Girl From '62 (a Regal Select single from 1991), It's been unavailable for nearly 20 years so it seems like a good time to put that right.

"Every Bit of Me" alone has enough rough-voiced and snarling garage punk power to shame wannabes half the age of Childish, and that's just the first track of 14. His witty, blunt, and passionate views on life, love, and lust are as strong as ever, while the band sounds particularly great, still embracing the rough-and-ready ToeRag Studio sound but cutting the musical crap and kicking out jams like nobody's business.
Ned Raggett Allmusic.com

Thee Headcoats carried on touring and releasing records until calling it a day in 2002.
Tracklisting
12" Vinyl Album (DAMGOOD449LP)
Download Album (DAMGOOD449)
Thee Headcoats

- Every Bit Of Me

Thee Headcoats

- (Bitten Off) More Than You Can Chew

Thee Headcoats

- I Wish I'd Never Been

Thee Headcoats

- We Ain't Gonna Be

Thee Headcoats

- What Smashed Me

Thee Headcoats

- Crazy Horse

Thee Headcoats

- Again and Again

Thee Headcoats

- Girl From '62

Thee Headcoats

- Thief

Thee Headcoats

- Watch Me Fall

Thee Headcoats

- He's So Popular With The Girls

Thee Headcoats

- I'm an Idiot

Thee Headcoats

- Hoping

Thee Headcoats

- Wish I Knew What I Was Living For