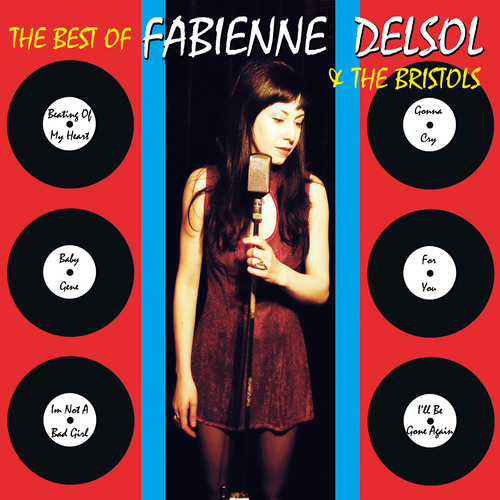 Best of Fabienne Delsol and the Bristols
Available Formats
Tracks
Price
Buy
12" Vinyl Album
14 tracks

£

13.99

Out of stock

CD Album
14 tracks

£

8.99

Out of stock

Download Album (

MP3

)
14 tracks

£

7.99

Download Album (

WAV

)
14 tracks

£

7.99
Description
Fabienne DelSol and The Bristols - Best of Fabienne Delsol and the Bristols
A 'Best Of' collection of Fabiennes work prior to her solo work when she was lead singer of The Bristols.

The Bristols were Liam Watson of Toe Rag and Ed Deegan's (who engineered at ToeRag) brainchild, along with Parsley, Owen Thomas, Cyril Roy, Johnny Maben and of course Fabienne on vocals.

The majority of their songs were interpretations of classic 60's pop/beat records plus a few original compositions penned in that style, They're invariably drenched in thunderous Joe meek style echo and have a genuine classic feel.

They released two albums, 'Introducing – Sound in Colour' in 1998 and 'Tune In With…' in 2000 along with 5 singles.

This compilation features track from both albums as well as hard to find singles and compilation tracks, all of which have been remastered and remixed by Liam.

Tracklisting
12" Vinyl Album (DAMGOOD 268 LP)
Fabienne DelSol and The Bristols

- Hanging On A String

Fabienne DelSol and The Bristols

- Questions I Can't Answer

Fabienne DelSol and The Bristols

- Baby I Got News For You

Fabienne DelSol and The Bristols

- I'm Not A Bad Girl

Fabienne DelSol and The Bristols

- Our Love Will Still Be There

Fabienne DelSol and The Bristols

- Who Does She Think She Is?

Fabienne DelSol and The Bristols

- For You

Fabienne DelSol and The Bristols

- Baby Gene

Fabienne DelSol and The Bristols

- Gonna Cry

Fabienne DelSol and The Bristols

- The Beating Of My Heart

Fabienne DelSol and The Bristols

- The Way I Feel About You

Fabienne DelSol and The Bristols

- I Got A Thing About You

Fabienne DelSol and The Bristols

- I'll Be Gone Again

Fabienne DelSol and The Bristols

- Can't You See That He's Mine
CD Album (DAMGOOD 268 CD)
Fabienne DelSol and The Bristols

- Hanging On A String

Fabienne DelSol and The Bristols

- Questions I Can't Answer

Fabienne DelSol and The Bristols

- Baby I Got News For You

Fabienne DelSol and The Bristols

- I'm Not A Bad Girl

Fabienne DelSol and The Bristols

- Our Love Will Still Be There

Fabienne DelSol and The Bristols

- Who Does She Think She Is?

Fabienne DelSol and The Bristols

- For You

Fabienne DelSol and The Bristols

- Baby Gene

Fabienne DelSol and The Bristols

- Gonna Cry

Fabienne DelSol and The Bristols

- The Beating Of My Heart

Fabienne DelSol and The Bristols

- The Way I Feel About You

Fabienne DelSol and The Bristols

- I Got A Thing About You

Fabienne DelSol and The Bristols

- I'll Be Gone Again

Fabienne DelSol and The Bristols

- Can't You See That He's Mine
Download Album (DAMGOOD 268 CD)