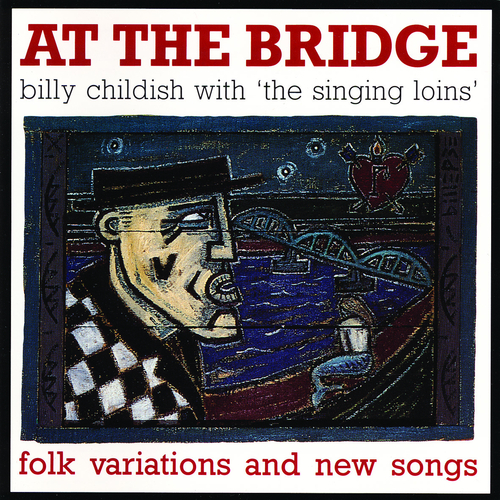 At The Bridge
Available Formats
Tracks
Price
Buy
CD Album
14 tracks

£

8.99

Download Album (

MP3

)
14 tracks

£

7.99

Download Album (

WAV

)
14 tracks

£

7.99
Description
Billy Childish & the Singing Loins - At The Bridge
A re-issue of one of our favourite early releases and a rather overlooked classic album, a one off collaboration between Billy Childish and legendary Medway folkies The Singing Loins'

This was recorded in 1993 when Billy was in Thee Headcoats and The Singing Loins were in their first incarnation. The Singing Loins formed in late 1990, a two piece band playing "Authentic raw folk from the Medway Delta". They are Chris Broderick on Vocals / Stick and Chris 'Arfur' Allen on Guitar. They had recorded two classic albums before this both of which were released on Billy's own Hangman records.

The album features a few Childish classics reworked including 'You Make Me Die' and 'Every Bit Of Me' as well as 4 tracks written by Billy & The Loins especially for this album.

The Singing Loins are still going strong today after taking a break for a few years before reforming in 2004. They released a brand new album in 2005 called 'Songs To Hear Before You Die' (Damgood 247CD) and a double CD compilation of all their early work called 'The Complete Singing Loins' (Damgood 231CD).

Tracklisting
CD Album (DAMGOOD22CD)
Billy Childish & the Singing Loins

- The Bitter Cup

Billy Childish & the Singing Loins

- Pocahontas Was Her Name

Billy Childish & the Singing Loins

- The Hanged Man's Dance

Billy Childish & the Singing Loins

- You Make Me Die

Billy Childish & the Singing Loins

- I Don't Like The Man I Am

Billy Childish & the Singing Loins

- The Double Axe

Billy Childish & the Singing Loins

- At The Bridge

Billy Childish & the Singing Loins

- Every Bit Of Me

Billy Childish & the Singing Loins

- Somebody Else

Billy Childish & the Singing Loins

- The Ferry Man (Zeebrugge)

Billy Childish & the Singing Loins

- One Day You Die

Billy Childish & the Singing Loins

- Brimful Of Hate

Billy Childish & the Singing Loins

- Dragging Through This

Billy Childish & the Singing Loins

- One More Bottle To Drink
Download Album (DAMGOOD22CD)