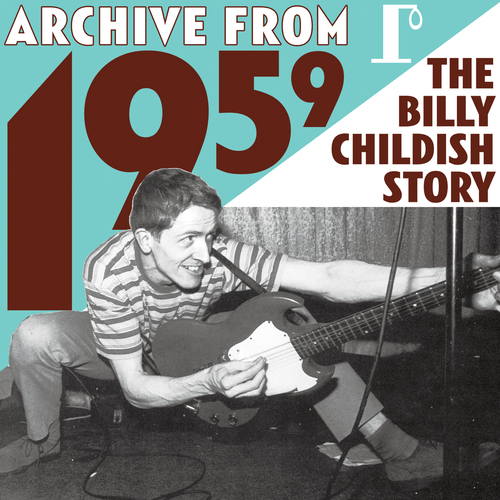 Archive From 1959 - The Billy Childish Story
Available Formats
Tracks
Price
Buy
12" Vinyl Triple Album
51 tracks

£

19.99

Out of stock

CD Double Album
51 tracks

£

11.99

Download Album (

MP3

)
51 tracks

£

12.00

Download Album (

WAV

)
51 tracks

£

15.98
Description
Billy Childish - Archive From 1959 - The Billy Childish Story
Billy Childish has been releasing records, painting, writing poetry and generally doing his own thing for the past 32 years.
He first took to the stage back in October 1977 with seminal punk garage band The Pop Rivets, they split after two years and from there he joined The Milkshakes along with fellow Pop Riveter Bruce Brand and local lads Micky Hampshire & Russ Wilkins, after that came Thee Mighty Caesars, Thee Headcoats, The Buff Medways and right up to date with his two current ensembles The Musicians Of The British Empire & The Chatham Singers.
This 51 Track compilation is a look back at the more Rock N Roll aspects of his musical career which is why there's no spoken word or poetry on this album.
In amongst these more well known bands are tracks he recorded solo and with other artistes like The Delmonas, Thee Headcoatees, Singing Loins, Kyra Rubella etc.
Over the years Billy has been championed by lots of great bands and musicians including Beck, Mudhoney and Kurt Cobain and more recently by Eddie Vedder & The White Stripes. Even with that praise Billy has been largely ignored by the music press in this country which is really surprising as he has now released over 120 albums (including 4 on one day!).
Many of the tracks on this compilation have been unavailable for ages and some also have never appeared on CD as well as many unpublished photos on the cover and 12 page booklet.
Lois Wilson (Mojo) has writing the sleeve notes and there will also be a deluxe triple vinyl version as well as a double CD digipak deluxe package.
Now seems to be the perfect time for people to catch up with what he has been doing for the last 32 years.

Tracklisting
12" Vinyl Triple Album (DAMGOOD335V)
The Buff Medways

- Archive From 1959

Wild Billy Childish And The Musicians Of The British Empire

- Thatcher's Children

The Milkshakes

- I'm Out Of Control

Thee Headcoats

- Punk Rock Is Nicht Tot

The Chatham Singers

- Evil Thing

Wild Billy Childish And The Musicians Of The British Empire

- He's Making A Tape

Thee Headcoats

- Pocahontas Was Her Name

The Pop Rivets

- Kray Twins (Demo)

Thee Mighty Caesers

- You Make Me Die

The Buff Medways

- Troubled Mind

Thee Headcoats

- Davy Crockett

The Milkshakes

- Love Can Lose

Jack Ketch And The Crowmen

- Somebody Else

Thee Headcoats

- The Day I Beat My Father Up

Kyra

- This Wondrous Day

The Buff Medways

- Medway Wheelers

The Buff Medways

- I'm Glad I'm Not Like David Wise

Thee Headcaotees

- When You Stop Loving Me
Wild Billy Childish And The Musicians Of The British Empire

- Christmas 1979
Thee Headcaotees
- Hurt Me
Thee Mighty Caesers
- Loathsome 'n' Wild
The Chatham Singers
- An Image Of You
Thee Headcoats
- She's In Disguise
Billy Childish And The Singing Loins
- I Don't Like The Man I Am
The Chatham Singers
- The Man With The Gallows Eyes
Wild Billy Childish And The Musicians Of The British Empire
- Snack Crack
Thee Mighty Caesers
- Cowboys Are Square
Thee Headcoats
- I'm Hurtin'
The Delmonas
- I Feel Like Giving In
Billy Childish
- Ballad Of Hollis Brown
Thee Headcoats
- Every Little Thing
Thee Headcoats
- Headcoat Lane
The Buff Medways
- Sally Sensation
Thee Headcoats
- (We Hate The Fuckin') NME
Thee Mighty Caesers

- Lie Detector
Thee Headcoats
- What's Wrong With Me
The Buff Medways
- Strood Lights
Billy Childish
- Get Out Of Here Pretty Girl
Thee Headcoats
- It Ain't Mine
The Milkshakes
- For She
Billy Childish
- The Bitter Cup
Thee Headcoats
- Girl From '62
The Pop Rivets
- Fun In The UK
Wild Billy Childish And The Musicians Of The British Empire
- Birthday Boy
Thee Headcoats
- Fingers In The Sun
Jack Ketch And The Crowmen
- Mass Ignorance Culture
Thee Headcoats
- We'er Gone
Kyra
- Today Is The Night
Thee Headcoats
- Rusty Hook
Thee Mighty Caesers
- I Was Lead To Believe
Wild Billy Childish And The Musicians Of The British Empire
- Joe Strummers Grave
CD Double Album (DAMGOOD335CD)
The Buff Medways

- Archive From 1959

Wild Billy Childish And The Musicians Of The British Empire

- Thatcher's Children

The Milkshakes

- I'm Out Of Control

Thee Headcoats

- Punk Rock Is Nicht Tot

The Chatham Singers

- Evil Thing

Wild Billy Childish And The Musicians Of The British Empire

- He's Making A Tape

Thee Headcoats

- Pocahontas Was Her Name

The Pop Rivets

- Kray Twins (Demo)

Thee Mighty Caesers

- You Make Me Die

The Buff Medways

- Troubled Mind

Thee Headcoats

- Davy Crockett

The Milkshakes

- Love Can Lose

Jack Ketch And The Crowmen

- Somebody Else

Thee Headcoats

- The Day I Beat My Father Up

Kyra

- This Wondrous Day

The Buff Medways

- Medway Wheelers

The Buff Medways

- I'm Glad I'm Not Like David Wise

Thee Headcaotees

- When You Stop Loving Me

Wild Billy Childish And The Musicians Of The British Empire

- Christmas 1979

Thee Headcaotees

- Hurt Me

Thee Mighty Caesers

- Loathsome 'n' Wild

The Chatham Singers

- An Image Of You

Thee Headcoats

- She's In Disguise

Billy Childish And The Singing Loins

- I Don't Like The Man I Am

The Chatham Singers

- The Man With The Gallows Eyes

Wild Billy Childish And The Musicians Of The British Empire

- Snack Crack
Thee Mighty Caesers

- Cowboys Are Square
Thee Headcoats
- I'm Hurtin'
The Delmonas
- I Feel Like Giving In
Billy Childish
- Ballad Of Hollis Brown
Thee Headcoats
- Every Little Thing
Thee Headcoats
- Headcoat Lane
The Buff Medways
- Sally Sensation
Thee Headcoats
- (We Hate The Fuckin') NME
Thee Mighty Caesers
- Lie Detector
Thee Headcoats
- What's Wrong With Me
The Buff Medways
- Strood Lights
Billy Childish
- Get Out Of Here Pretty Girl
Thee Headcoats
- It Ain't Mine
The Milkshakes
- For She
Billy Childish
- The Bitter Cup
Thee Headcoats
- Girl From '62
The Pop Rivets
- Fun In The UK
Wild Billy Childish And The Musicians Of The British Empire
- Birthday Boy
Thee Headcoats
- Fingers In The Sun
Jack Ketch And The Crowmen
- Mass Ignorance Culture
Thee Headcoats
- We'er Gone
Kyra
- Today Is The Night
Thee Headcoats
- Rusty Hook
Thee Mighty Caesers
- I Was Lead To Believe
Wild Billy Childish And The Musicians Of The British Empire
- Joe Strummers Grave
Download Album (DAMGOOD335CD)