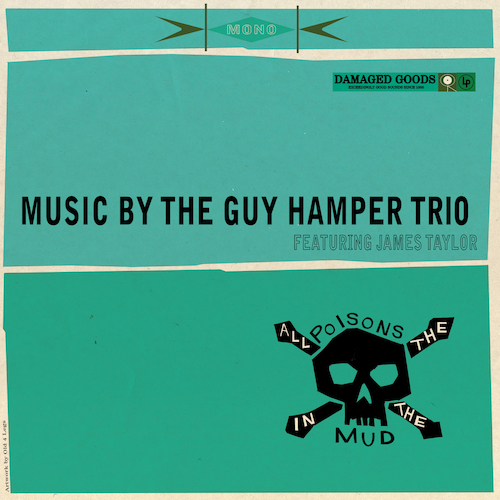 All The Poisons In the Mud
Available Formats
Tracks
Price
Buy
12" Vinyl Album
12 tracks

£

18.99

CD Album
12 tracks

£

9.99

Download Album (

WAV

)
12 tracks

£

7.99

Download Album (

MP3

)
12 tracks

£

7.99

Download Album (

FLAC

)
12 tracks

£

7.99

Download individual tracks
From £0.99
Description
The Guy Hamper Trio feat. James Taylor - All The Poisons In the Mud
DEBUT LP FROM THE GUY HAMPER TRIO!
Groovy Hammond garage rock instrumentals from Billy Childish (Thee Headcoats/CTMF etc) and featuring James Taylor (Prisoners/JTQ)

We're loving this new album by The Guy Hamper Trio! Who's in the band sunshine?

Mainly myself on guitar, Julie on bass, Wolf on drums, and of course Jamie on Hammond. A great bonus is Thee Headcoats with Bruce and Tub guest as rhythm section on a track or two.

You and James Taylor go back a long way. Do you remember how you first met?

The Prisoners were a young group who played with us (the Milkshakes) in the early 1980s. One day they turned up with an organ player, Jamie. Jamie used to then borrow my Selmer guitar amp to play through.

You've revisited a few old classics on this album, and given them a true makeover. How would you describe The Guy Hamper Trio's sound?

I guess there must be a derogatory term for it but I might need some help finding it. In the very early days of The James Taylor Quartet (Wolf was their drummer back then), I was in the Natural Born Lovers (A blues group with Big Russ and Sexton Ming). We used to be the support for them. I really liked their sound and I guess The Guy Hamper Trio is not a million miles from that blues-influenced, film soundtrack vibe, man. There you made me say "man". Next thing you know I will be saying "cool!" Let's just say it's a wizard sound, Jamie is such a great player.

Prior to this album The Guy Hamper Trio's sole release was the 'Polygraph Test' 7" from 2009. Why such a big gap?

It takes time for all of us to get all our solders in line. "Get on with it mush! And trifle not, your time is but short!"

What inspired the album's title track All The Poisons In the Mud?

It's actually the title of a novel I've been writing, and rewriting, over the past 12 years, and is taken from a quote from I Claudius by Robert Graves - a formative influence on me as a 15 year old.

The sleeve art is pretty different to your other recent records, could you tell us a about that? Who designed it?

I nominally designed it but the truth is that its essentially a rip off of a Saul Bass sleeve he did for Duke Ellington. We started mining that seam back in the Milkshakes when Bruce (Brand) did the sleeve for Thee Knights of Trashe.

The album closes with a storming cover of Jimi Hendrix's "Fire". What do you think Jimi would make of your version?

I've been a fan of Jimi since my elder brother brought his records home in the '60s. Jimi was well known to "dig" others work and interpretations and would no doubt smile, narrow his smoky eyes and say "cool man!" and I would no doubt reply "wizard Jimi!"
Tracklisting
12" Vinyl Album (DAMGOOD589LP)
CD Album (DAMGOOD589CD)
The Guy Hamper Trio feat. James Taylor

- All The Poisons in the Mud

The Guy Hamper Trio feat. James Taylor

- Come into My Life

The Guy Hamper Trio feat. James Taylor

- Moon of the Popping Trees

The Guy Hamper Trio feat. James Taylor

- Girl from '62

The Guy Hamper Trio feat. James Taylor

- Full Eclipse of the Sun

The Guy Hamper Trio feat. James Taylor

- Sally Sensation

The Guy Hamper Trio feat. James Taylor

- 7% Solution

The Guy Hamper Trio feat. James Taylor

- Step Out

The Guy Hamper Trio feat. James Taylor

- Polygraph Test

The Guy Hamper Trio feat. James Taylor

- The Kids are All Squre

The Guy Hamper Trio feat. James Taylor

- Skinwalker

The Guy Hamper Trio feat. James Taylor

- Fire
Download Album (DAMGOOD589)
The Guy Hamper Trio feat. James Taylor

- All The Poisons in the Mud

The Guy Hamper Trio feat. James Taylor

- Come into My Life

The Guy Hamper Trio feat. James Taylor

- Moon of the Popping Trees

The Guy Hamper Trio feat. James Taylor

- Girl from '62

The Guy Hamper Trio feat. James Taylor

- Full Eclipse of the Sun

The Guy Hamper Trio feat. James Taylor

- Sally Sensation

The Guy Hamper Trio feat. James Taylor

- 7% Solution

The Guy Hamper Trio feat. James Taylor

- Step Out

The Guy Hamper Trio feat. James Taylor

- Polygraph Test

The Guy Hamper Trio feat. James Taylor

- The Kids are All Squre

The Guy Hamper Trio feat. James Taylor

- Skinwalker

The Guy Hamper Trio feat. James Taylor

- Fire