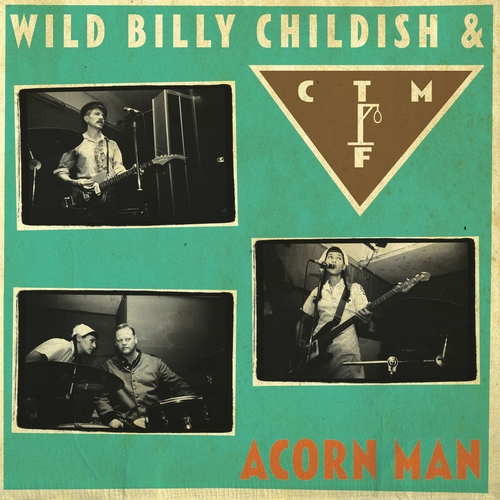 Acorn Man
Available Formats
Tracks
Price
Buy
12" Vinyl Album
12 tracks

£

12.99

Out of stock

CD Album
12 tracks

£

11.99

Out of stock

Download Album (

WAV

)
12 tracks

£

7.99

Download Album (

MP3

)
12 tracks

£

7.99

Download individual tracks
From £0.99
Description
CTMF - Acorn Man
Wild Billy Childish & CTMF are back! Hot on the heels of their recent "Punk Rock Enough For Me" single is the band's second long-player Acorn Man. Available on vinyl or ltd edition hand-stamped CD.

Billy Childish is an international cult figure, painter, poet and novelist. He has released over 120 independent albums and influenced a vast range of musicians from Kurt Cobain, Beck and Mudhoney, through to Jack White, The Hives, The Strypes and Kylie Minogue. Time will no doubt see more names added to the list.

His Latest band is CTMF. Billy's description of their sound holds true - "the sound of yesterday, tomorrow"

Acorn Man is arguably one of Childish most accessible LPs,  showcasing Childish's love of punk rock and beat. Traces of dirge and the The Fall mingle effortlessly with  unbounded pop on tracks such as 'It's So Hard to be Happy.'

Childish's 35 year quest for the 'ever essential bones of pop' bears fruit and remains true to to his opening gambit back in 1977.  "We write the songs, produce the songs and determine what constitutes success."
Tracklisting
12" Vinyl Album (DAMGOOD434LP)
CD Album (DAMGOOD434CD)
CTMF

- It's so Hard to Be Happy

CTMF

- Zero Emission

CTMF

- He Wore a Pagan Robe

CTMF

- A Flame from the Fen

CTMF

- What Is This False Life You're Leading

CTMF

- Acorn Man

CTMF

- Punk Rock Enough for Me

CTMF

- Me or Mine

CTMF

- Curious Filters

CTMF

- The Song of Myself

CTMF

- Acorn Man (Slight Return)

CTMF

- Instantly Delete
Download Album (DAMGOOD434)
CTMF

- It's so Hard to Be Happy

CTMF

- Zero Emission

CTMF

- He Wore a Pagan Robe

CTMF

- A Flame from the Fen

CTMF

- What Is This False Life You're Leading

CTMF

- Acorn Man

CTMF

- Punk Rock Enough for Me

CTMF

- Me or Mine

CTMF

- Curious Filters

CTMF

- The Song of Myself

CTMF

- Acorn Man (Slight Return)

CTMF

- Instantly Delete