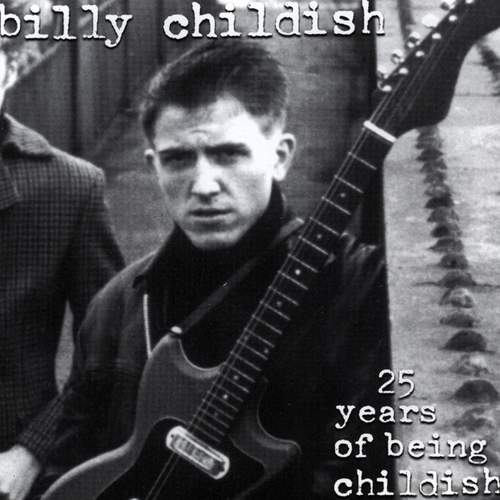 25 Years Of Being Childish
Available Formats
Tracks
Price
Buy
CD Double Album
42 tracks

£

11.99

Out of stock

Download Double Album (

MP3

)
42 tracks

£

15.98

Download Double Album (

WAV

)
42 tracks

£

15.98
Description
Billy Childish - 25 Years Of Being Childish
Billy Childish has been releasing records, painting, writing poetry and generally doing his own thing for the last 25 years. He first took to the stage back in October 1977 with seminal punk garage band The Pop Rivets, The first song they ever played was 'Watcha Gonna Do About it' and that (actual recording) is the first track on the album. From there it moves through legendary bands like The Milkshakes, Thee Mighty Caesars, Thee Headcoats right bang up to date with The Buff Medway's.
In amongst these more well known bands are tracks he recorded solo, with other groups like The Delmonas, Thee Headcoatees, Holly Golightly, Kyra etc.
Over the years Billy has been championed by a lot of great bands and musicians including Beck, Mudhoney and Kurt Cobain and more recently by The White Stripes who he supported on their last tour. Even with that praise Billy has been largely ignored by the music press in this country which is really surprising as he has now released over 100 albums (including 4 Milkshakes albums on one day!), this changed recently with the release of the latest Buff Medway's album which got fantastic reviews in all the press including the NME!. They even did an interview with him and reckoned the Buff Medway's were one of the best bands to play at Glastonbury this year.
Channel 4 are finishing off a documentary on Billy's paintings and other art projects which will be shown around the time of this albums release (Date TBC), there is also a new exhibition of his paintings going on in Orpington in November.
Many of the tracks on this compilation have been unavailable for ages and also have never appeared on CD (Inc one Buff Medway's) as well as many unpublished photos on the cover.
Now seems to be the perfect time for people to catch up with what he has been doing for the last 25 years.

Reviews
BILLY CHILDISH is....
"a seething, dyslexic, better-looking British Bukowski"
THE OBSERVER
"the most garage and most punk rocker alive"
NME
"a musician, artist, writer, and rabble-rouser"
DAZED & CONFUSED
Tracklisting
CD Double Album (DAMGOOD210CD)
The Pop Rivets

- Watcha Gonna Do About It (Live 77)

The Pop Rivets

- Fun In The UK (Demo)

The Pop Rivets

- Beatle Boots

The Milkshakes

- Pretty Baby (Demo)

The Milkshakes

- Please Don't Tell My Baby

The Milkshakes

- For She

The Milkshakes

- I Need Loving

Thee Mighty Caesars

- Wily Coyote

Thee Mighty Caesars

- True To You

Thee Mighty Caesars

- You Make Me Die

Thee Mighty Caesars

- Cowboys Are Square

Billy Childish

- Get Out Of Here Pretty Girl

The Delmonas

- I Feel Like Giving In

Thee Mighty Caesars

- Lie Detector

Billy Childish & Sexton Ming

- Muscle Horse

Jack Ketch + Crowmen

- Somebody Else

Jack Ketch + Crowmen

- Who Could Be Proud

Billy Childish

- I Remember

Billy Childish

- The Noble Beast

Thee Headcoats

- Earl Of Suave

Thee Headcoats

- Smile Now
Thee Headcoatees

- Wild Man
Thee Headcoats
- Girl From '62
Thee Headcoatees
- Davey Crocket
Billy Childish and Armitage Shanks
- Shirts Off
Thee Headcoats
- We'er Gone
The Blackhands
- Anarchy In The UK
Billy Childish and Singing Loins
- One More Bottle To Drink
Thee Headcoats
- All My Feelings Denied
The Blackhands
- I Love My Woman
Thee Headcoats Sect
- Deer Stalking Man
Billy Childish
- The Bitter Cup
Billy Childish
- Ballad Of Hollis Brown
Kyra
- This Wondrous Day (Flemish)
Thee Headcoats
- Punk Rock Ist Nict Tot
Thee Headcoats
- I'm Hurting
Thee Headcoatees
- Hurt Me
Thee Headcoats
- The Same Tree
Billy Childish and Holly Golightly
- I Believe
The Buff Medways
- Archive From 1959
The Buff Medways
- Troubled Mind
The Buff Medways
- Fire
Download Double Album (DAMGOOD210CD)